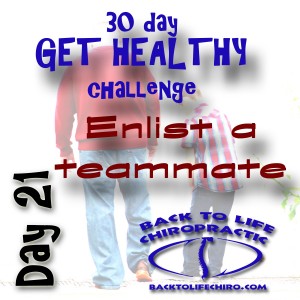 Sometime it's just too hard to go it alone.
If you're looking to make any big change in your life, you're usually going to be in for a bit of a battle.  Having someone beside you to lean on can make all the difference.
Find a trusted friend with similar goals and challenge each other to get them accomplished.  Whether it's a target weight you want to hit, a completed marathon, or a month dairy-free, sharing in the struggle will help to ease the burden.
If you can't find someone to get in the arena with you, then at least recruit someone as an accountability partner. Have them check in on you to make sure that you are doing what you are supposed to in order to hit your goal. Sometimes we are more apt to keep pushing forward for someone else than we are for ourselves.